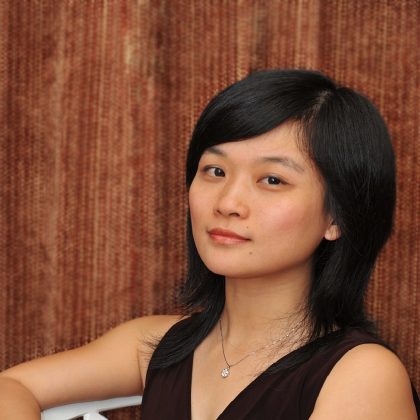 Liu Jia was born in Beijing, China into a family of professional musicians. At a young age, she won the Best Award in the National Children's Piano Competition. In 1987, she entered the Middle School of the Central Conservatory of Music in China and studied under Professors Zheng Li Qin, Wu Ying and Ling Yuan, where she won the Shen Xin Gong Scholarship for 2 consecutive years. She eventually entered the piano department of the Central Conservatory of Music to study under Professor Guo Zhi Hong in 1993. After graduating with a Bachelor of Arts, she furthered her education with a Master's Degree in the Central Conservatory of Music. She was the only Chinese pianist to be selected to participate in the 3rd Hamamastsu International Piano Academy in 1997 on a scholarship.
Liu Jia joined the Conservatory as a full-time Instructor and Piano Accompaniment Faculty from the Academic year of 2007, working closely with the Violin, Viola, Flute, Bassoon, Clarinet and French Horn studios. She has worked with many world-renowned musicians and visiting professors in the master-classes, including James Galway, Barry Tuckwell, Kim Walker, Pierre Amoyal, Renaud Capuçon, Midori Koto, Cho-Liang Lin, David Takeno, Vilmos Szabadi and Imai Nobuko.
Besides performing regularly in the Conservatory, Liu Jia is also active in the local and worldwide chamber music scene. In 2001, she founded the 'Feng Piano Trio' with two other SSO musicians. She has appeared in numerous Singapore Arts Festival performances, and was involved in several chamber concert tours in Asia. She also performed with the SSO Woodwind Quintet during its China tour and was featured in a series of flute and piano recitals in Beijing, Shanghai and Malaysia. As a soloist, she has played several concertos with the Singapore Symphony Orchestra, as well as major Chinese orchestras such as the China Film Symphony Orchestra and Beijing Symphony Orchestra.
As a special guest in recitals, Liu Jia has collaborated with local and international musicians in performances such as the HSBC Youth Excellence Initiative Awards Ceremony, with former President Mr. S.R. Nathan as a special guest. She has also participated in the Japan-ASAN Cultural Exchange Program 'Ensemble Series' and the BUFFET CRAMPON showcase in Singapore. She performed in a recital with the Adjudicator of the First National Clarinet Competition in Singapore, sponsored by Music Projects Pte Ltd and BUFFET CRAMPON, Paris. She also performed special concerts such as the opening recital of the Flute Festival 2010 held at YSTCM, as well as the SSO's special tribute concert for Mr. S.R. Nathan.
In 2015, Liu Jia was engaged as an official accompanist to work with the participants in the very first Singapore International Violin Competition hosted by the Conservatory. Liu Jia has also worked as an accompanist with the Nanyang Academy of Fine Arts, the Singapore Lyric Opera, the Singapore Press Holdings Chinese Choir, Lasalle-SIA Collage of the Arts and others. She also performs regularly on a freelance basis with the SSO in concerts and recordings.